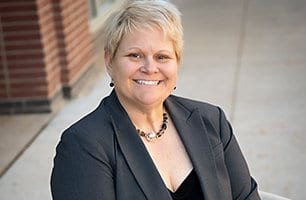 Attorney Noelle R. Murray has practiced law for 25 years and is committed to providing the experienced and highly personalized legal representation you deserve. She represents clients in a wide range of family law matters, including divorce, custody, visitation and child support, as well as criminal defense and commercial debt collection. Attorney Murray is a certified family law Mediator and Collaborative Lawyer.  
Attorney Murray is a graduate of South Texas College of Law (1993) and the University of Iowa (1989). She is a member of the American Bar Association, Iowa Bar Association (Criminal, Elder, Family and Juvenile Law Sections) and Linn County Bar Association. Attorney Murray is also active in the community having served on the board of directors for Iowa Center for Aids Resources and Education, Young Footliters and Renegades Fastpitch Softball. She performs pro bono work through the Iowa Volunteer Lawyers Project and also donates time to Combined Efforts Theater in Iowa City.
After first serving as an assistant prosecuting attorney in the 43rd Judicial Circuit of Missouri, Attorney Murray moved back home to the great state of Iowa in 2001. Prior to joining Bertroche Law Office, PC in 2014, Attorney Murray had established a general law practice in the Iowa City area for 13 years handling criminal defense, juvenile, mental health and substance abuse commitments, divorce, custody, child support and guardianship/conservatorship cases. Attorney Murray is grateful to Attorney Joseph G. Bertroche, Jr. for affording her the opportunity to purchase Bertroche Law Office, PC at the time of his 2018 retirement. Under the new company name, Murray Law Firm, PC, Attorney Murray endeavors to maintain the incomparable levels of integrity and dedication to effective client representation adhered to by Bertroche Law Office, PC for the past 35 years.